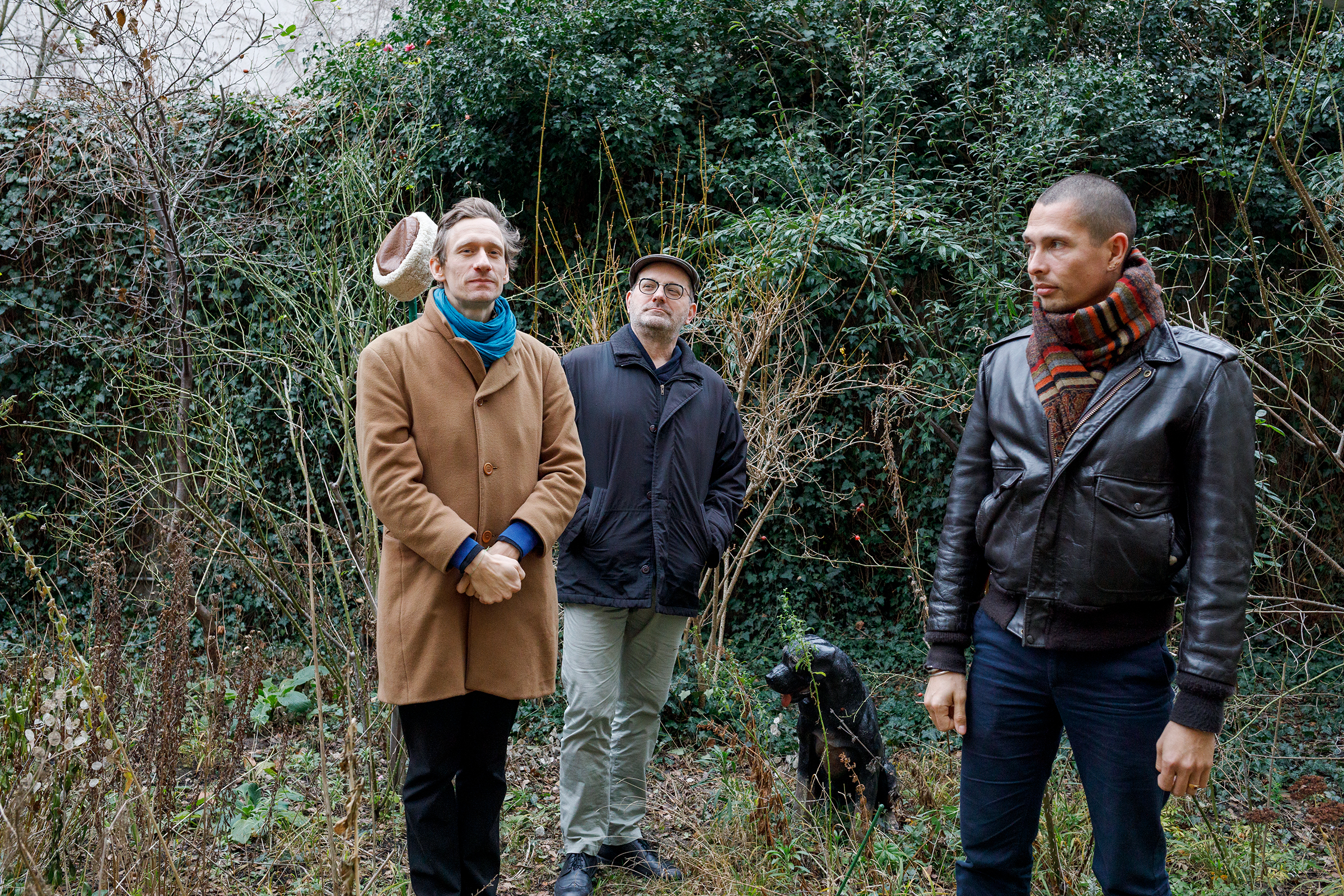 𝗢𝘂̀𝗮𝘁 (Once upon a time)
Simon Sieger | Joel Grip | Michael Griener
With a sound reminiscent of acoustic piano trios of the 50s and 60s, Oùat sets out to explore the idea of a jazz standard song format of today.
The venue Au Topsi Pohl in Berlin allowed for regular series of work where they could investigate and perform the music of Ellington, Hasaan Ibn Ali, Elmo Hope, Per Henrik Wallin and Sun Ra as well as develop their own sound and ideas. Their debut album Elastic Bricks (LP | Umlaut | 2022) is exclusively dedicated to their own material which might evoke a dreamed-up vacation of Hindemith in Alger; sounds and tempos in a curious mixture of recognizable disorder and unrecognizable order. For their most recent release, The Strange Adventures of Jesper Klint (2LP |Umlaut | 2023) Oùat reiterate trio music of Swedish pianist Per Henrik Wallin which is an escalating and beautiful venture of limits and questioning.
Oùat continue to praise the sound and momentum of collective concentrated creativity, making as much as possible out of an idea, a shared place and time.
Oùat (Once upon a time) can be heard as storytelling, a chatty trilogy instantaneously finding the sonorous meanings of what, where andwhen. How this is possible is another question. Simply listen – its a good beginning, and end! – to Oùat and its members who play momentous roles in the creative music scenes of Europe, from Marseille to Dala-Floda via Berlin. Their individual work is heard in groups such as Monks Casino, [ahmed], and The Art Ensemble of Chicago.
The musicians
Simon Sieger is a multi-instrumentalist, arranger and composer.
His field of activity ranges from barrelhouse boogie to Sun Ra reinterpretations to hard-hitting sweet noise.
In his own words, "Music has no boundaries; anything can go anywhere, with the right attitude. That's the way the world should be."
He has been heard playing stride piano at noise concerts and Turkish maqam in a blues band.
Often called a "hunter-gatherer" by his peers, he has recently played with the Art Ensemble of Chicago, the Famoudou Don Moye Odyssey and Legacy Quintet, and Mars Music Bar Opera.
After studies in Sweden and Baltimore, USA (with Michael Formanek), Joel Grip moved to Paris where he opened Umlaut Records in 2007. Since 2019 he organizes weekly music series under the name Au Topsi Pohl and Topsi Unter Haltung in Berlin, as well as productions like Mars Music. Besides his musical activities, Joel Grip makes films and drawings/paintings.
Active in the groups Topsi Unter Haltung, Oúat, Mr. Borelgrip, اسم [ism], أحمد [ahmed], Klub Demboh, Tribute to Sheep, duos with Tristan Honsinger, Seymour Wright and Takako Suzuki, Blythill, three trios with Sven-Åke Johansson (with Bertrand Denzler – Neuköllner Modelle, with Rüdiger Carl – In early November – and with Niklas Fite – Erinnerungen und Litfass), PTEE and Peeping Tom.
Michael Griener came to Berlin from Nuremberg a few years ago and since then has been one of the most sought-after drummers for all occasions, be his partners more traditional heroes like Herb Ellis, radical ones like Barry Guy, protagonists of the local scene like Axel Dörner or sound researchers like Zeena Parkins. On all occasions he proved to be the ideal cast, not because he lacks a profile of his own, but because he knows how to underpin every idea, no matter how special, with his own esprit and makes the golden cut between the own and the foreign the theme of his playing. The self-taught artist's style combines both brokenness and flow and is unique far and wide. His coolness as well.